Category Archives:
Featured
Congratulations!!!

Lt. Gen. Nadja West has been appointed as the Army's 44th Surgeon General. With this appointment comes a promotion to lieutenant general, which makes West the Army's first black female 3-star general as well as the highest ranking female of any race to graduate from West Point.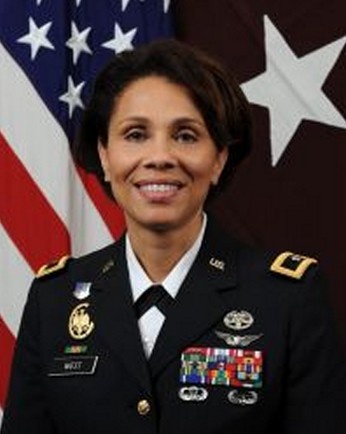 West started as a child in Germany five decades ago. She came into the world a mischlingskinder or "brown baby"—one of many children borne of liaisons between African American servicemen and German women. Orphaned as a baby, she was adopted at nine months by Oscar and Mabel Grammer. Oscar Grammer worked as a chief warrant officer in the U.S. Army. Mabel Grammer was a civil rights activist and journalist who, at one point, wrote for the Afro American Newspapers. Together the couple adopted 12 children; West was the youngest.
On Tuesday, February 9 (2016), Lt. Gen Nadja West will be honored in an official ceremony. The promotion and ceremony follows the 54-year-old's confirmation by the Senate as the new Army Surgeon General and Commanding General, U.S. Army Medical Command (MEDCOM) as of December. As such, West will be assisting and advising the Secretary of the Army and Army Chief of Staff in relation to all health care matters in the Army, in addition to overseeing development, organization, policy direction, and other matters relative to the Army-wide health care systems.
"I was once an orphan with an uncertain future," said West of the promotion and the new responsibilities facing her in the future. "And I am incredibly honored and humbled to lead such a distinguished team of dedicated professionals who are entrusted with the care of our nation's sons and daughters, veterans and family members. While our Army and our nation face tough challenges in the future, I am confident that collectively we have the right skills, commitment, and talent to meet those challenges with mission success," she added.
The Washington D.C. area-native holds a Bachelor of Science in Engineering from the United States Military Academy at West Point and a Doctorate of Medicine from George Washington University School of Medicine. She has held previous assignments as Commanding General, Europe Regional Medical Command; Commander of Womack Army Medical Center, Fort Bragg, N.C.; and Division Surgeon, 1st Armored Division, Army Europe and Seventh Army, Germany. Originally published here.
Black History in the making!
Brava!
Three-Star General,
Lt. General Nadja West,


We Salute You!
* SAVE THE DATES * March 26-27, 2016
The Black German Cultural Society Exhibit at