BGCS Banquet
Black German Cultural Society Banquet March 2015
Honoring Our Own ~ Honoring Each Other
With hearts filled with joy, compassion and understanding, German-born, Post WWII, US Occupation Babies, stand shoulder to shoulder in recognition and honor. This, in of itself, would have been enough. However, the evening was this, and so much more.
Brown Baby, Save The Children Melody by Diana Ross
(BGCS BANQUET 2015 THEME SONG)
Listen as you peruse our wonderful photographs.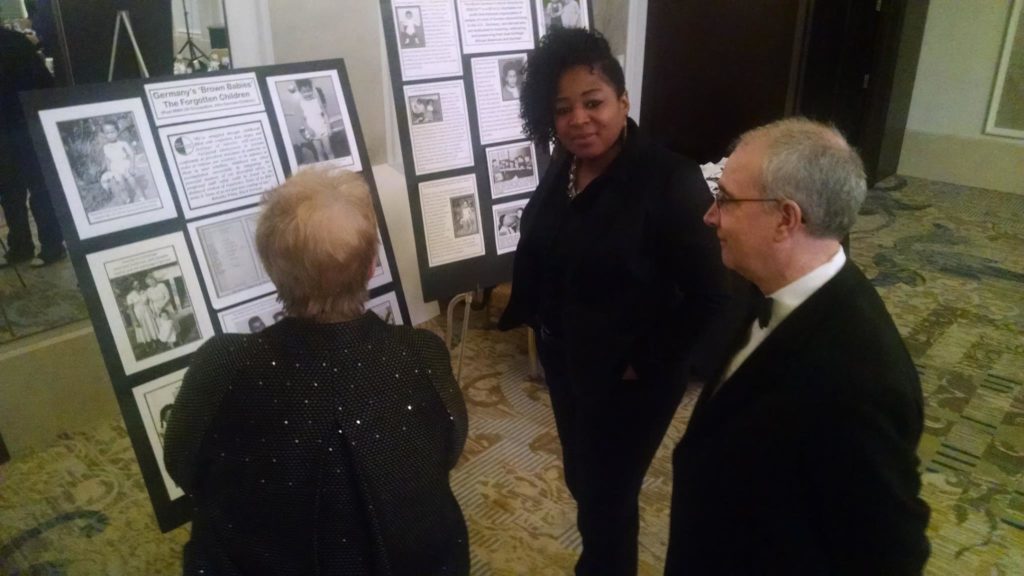 Testimonial
Janet, 2nd generation German-born, US occupation Afro-German:  "It feels good to be with my own, and so many of us sharing experiences so unique to my group, so unimaginable to many others…..it feels so good to be here, to be understood without having to say a word ….feels good to be at home and I'm at home where my people are. It was touching to see the.meanwhile well known documentary film "Brown babies in Germany" , the stories of a lot of our first post ww2 afro Germans. I'm happy to see my son following the program with so much interest. I'm grateful that he learns more about who we are as an ethnic group, and what that means to us, and that he catches a good deal of black history lesson that you don't usually hear about. What a amazing evening."
ADDITIONAL PHOTOGRAPHS CAN BE VIEWED ON OUR FACEBOOK PAGE.
The Official Black German Cultural Society's
First Annual BGCS™ Awards Banquet!
"HONORING OUR OWN – HONORING EACH OTHER"
Honoring all Afro-German children, so-called German 'Brown Babies',
born to German women and African American soldiers in post WWII Germany.
"WE ACKNOWLEDGE YOU. WE CELEBRATE YOU. WE HONOR YOU."
"We've struggled through childhoods filled with confusion, fear, anger, and feelings of inferior self-esteem. Navigated adolescence in extreme conformity to perceived structures of authority in order to redeem our existence, or in defiance to them in utter rebellion. Adulthood was either accomplished successfully by integrating the powerful nuances of our diversified selves, or postponed until safety could be found in the distanced wisdom of experience. Some of us didn't make it. Some of us are just now coming of age."~ Rebekka White, Black German
If you have any questions please contact Founding President Shirley Gindler-Price at 267-251-7331 or email BGCSbanquet@gmail.com