German 'Brown Babies'
Germany's 'Brown Babies'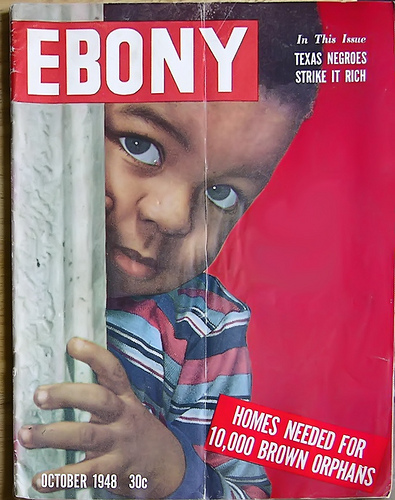 Home Needed for 10000 Brown Babies Interracial Children of War, Ebony Magazine, October 1948
We Are Here! (Wir Sind Hier!)
"We've struggled through childhoods filled with confusion, fear, anger, and feelings of inferior self-esteem. Navigated adolescence in extreme conformity to perceived structures of authority in order to redeem our existence, or in defiance to them in utter rebellion. Adulthood was either accomplished successfully by integrating the powerful nuances of our diversified selves, or postponed until safety could be found in the distanced wisdom of experience. Some of us didn't make it. Some of us are just now coming of age." ~ Rebekka White, Black German
Shirley 'Daniela ' Gindler. Born 1952, Nuremberg Germany. German Jewish Mother/ African American soldier. Adopted age 2, by African American couple.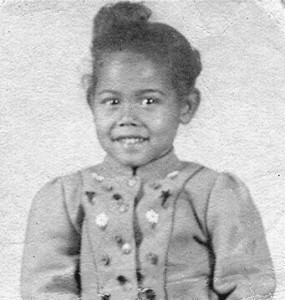 Out of the approximately 95,000 U.S. Occupation babies born in Germany shortly after WWII, there were approximately 5000 of us, Post WWII Afro-German children or so-called Negro mulatto babies, better known in the United States as Germany's "Brown Babies." In 1952, the SPD (Social Democratic Party of Germany) deemed that we formed a special group, presenting a human and racial problem of a special nature. Our national and cultural heritage were seen to be in direct contrast to our skin color.
Rudy (Hall). Born Germany (Year and City Unknown) Adoption Rescinded.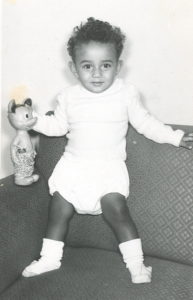 Excerpt:
Born in an era when Germany was still grappling with its responsibility for the Holocaust and when the US Army had a policy of not acknowledging paternity claims brought against its soldiers stationed abroad, some of these children were put up for adoption in the United States. At the time, Germany judged itself incapable of absorbing these "brown babies" — as they have come to call themselves. In the late 1940s and 1950s, efforts were made to match them with African-American military families, many of whom were stationed around Germany at the time.
Forbidden to Speak German
The adoptees grew up in the United States, many with no idea they were adopted or that they were half-German (for information on the difficulties encountered by black GIs wanting to stay with their German girlfriends, read the sidebar on the left). Scattered across the country, many of the children were forbidden to speak German in their new homes. At the time, it was believed that continuing to speak German would damage their ability to learn fluent English.
German Passport of Shirley Gindler-Price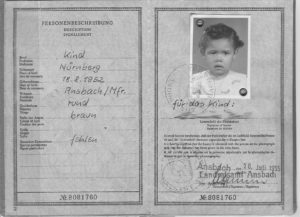 Henriette Hood-Cain. Born 1952, Darmstadt Germany. German mother/ African American soldier. Adopted age 2, by African American couple.


Jelka Lehman. Born to German mother and African American Soldier. Adopted by German Family.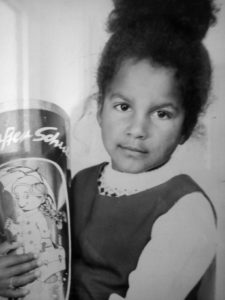 Nancy. Born 1973, Berlin Germany, to German mother and African American soldier. Adopted by German family.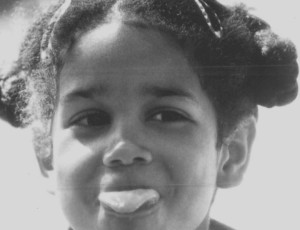 Vaughn Filmore. Born 1952, Karlsruhe Germany. German mother/African American soldier. Parent married.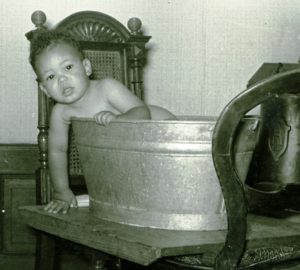 Rudi 'Udo Ackermann" Richardson. Born 1955 to German Jewish mother and African American soldier. Adopted age 2 by African American couple.

SFC. Hall  stationed in Germany. Astonished to see Afro-German child (name unknown).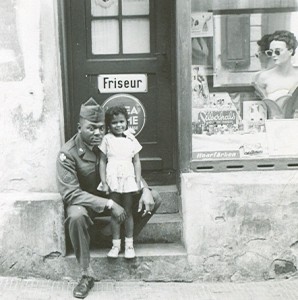 "And the day came when the risk to remain tight in a bud was more painful than the risk it took blossom." ~Anaïs Nin
Brotherly Love – Jet Magazine, December 18, 1952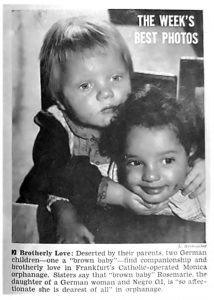 Tan Tots Attend German Schools – Jet Magazine, July 24, 1952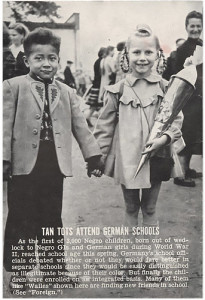 German Brown Baby in a Water Lily – Hue Magazine, January, 1955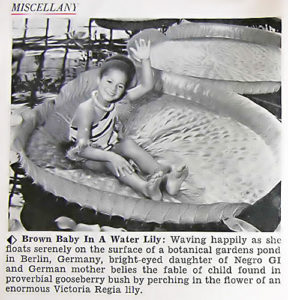 Brown Babies Become Americanized -Jet Magazine, May21, 1953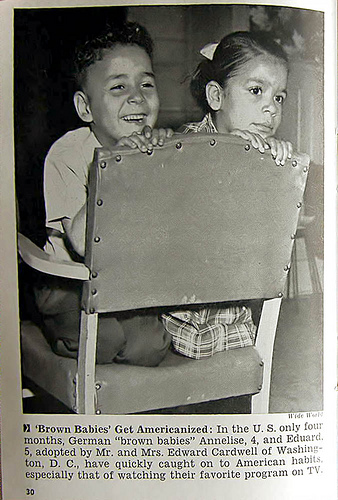 Brown Babies Adopted by German Families – Jet Magazine, November 8, 1951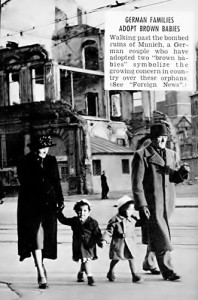 Brown Babies Find New Homes In America, Jet Magazine, Oct 8, 1953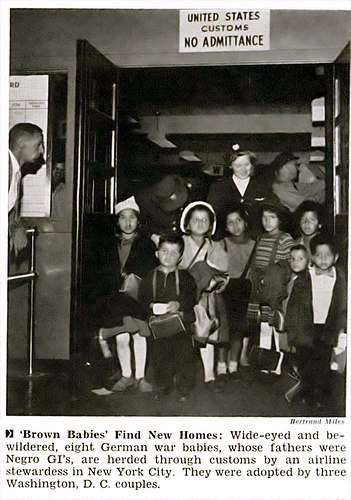 Two Brown Babies (Interracial Babies of War) Adopted by Edward Cardwell and Wife Hattie – Jet Magazine, January 29, 1953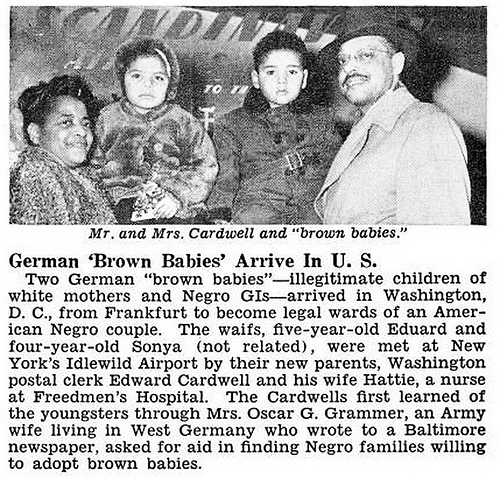 German Brown Babies (Interracial Children of War) Get Arkansas Home with Dr. DW Young in Arkansas – Jet Magazine, June 4, 1953
Small Talk in Mannheim, Germany – Hue Magazine Mar, 1954
Reporter Jimmie Hicks and Wife Daisy Adopt German Brown Baby (Interracial Child of War) – Jet Magazine, June 18, 1953
ŸBest Documentary, American Black Film Festival 2011
Best Film, Audience Award, African-American Women in Cinema 2011
HBO Finalist, Martha's Vineyard Black Film Festival, 2011
Best Documentary Nominee, Black Reel Awards, 2012
Two nations ashamed of their own: Nazi Germany and Jim Crow America. This is the true story of the children born in post-war Germany to black American soldiers and white German women, and the African-American socialite who took it upon herself to rescue hundreds of the children when armies and nations did nothing.
PLEASE NOTE:
*German 'Brown Babies' was a term used mainly in the US to identify German-born post WWII mixed-race babies. Black German adoptees living in the US identified as German 'Brown Babies' for lack of a better identification. In Germany, post WWII babies were called Mischlingskinder (mixed-race children). Both identifications are considered to be derogatory, but significant in their historical context. Mischlingskinder was employed as a legal classification during the Third Reich to demote German citizens to subjects on the basis of race. The uncontested retention of this term after 1945 was surprising; nonetheless, its meaning had changed.
First, it was stripped of legal significance and returned to its pre-1935 use as social marker. Second, while it was earlier applied primarily to the children of Christian-Jewish unions, after 1945 this usage was dropped, and Mischling was employed exclusively to designate German children of color, usually of African or African American paternity, but also occasionally Puerto Rican and French Indochinese. Thus the term marked the children's racial and national difference from white German children. Today, many people of color of German descent identify as either Black German and/or Afro-German.
BGCS Notes: Other Post WWII War Babies
Italian War Baby Learns His Three Rs – Hue Magazine, July 28, 1954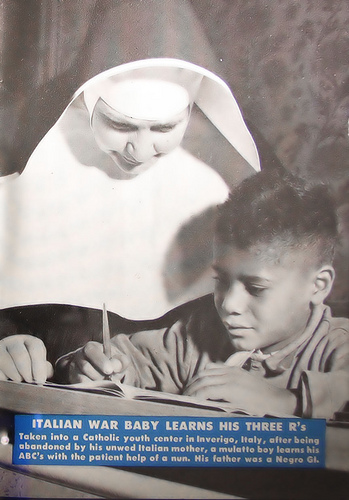 Japanese Say GIs Have Fathered 200,000 Babies – Jet Magazine, Feb 28, 1952

Heartbroken Brown Babies (Interracial Babies of War) in Japan – Jet Magazine, December 13, 1951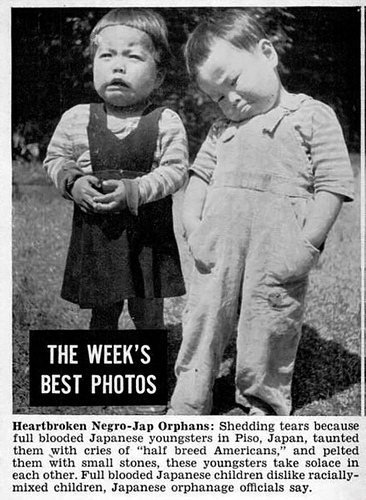 Piggyback on a Bike – Hue Magazine June 16, 1954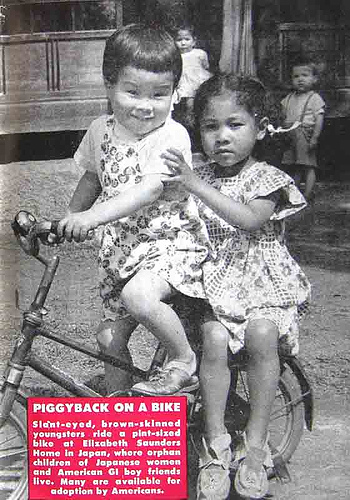 Korea's Ostracized Brown Babies – Jet Mag, Mar 24, 1955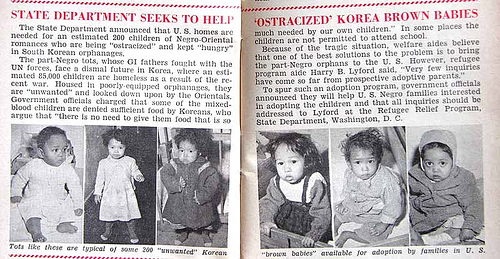 MEMOIRS & STORIES BY ADULT AFRO-GERMAN TRANSRACIAL/ TRANSCULTURAL ADOPTEES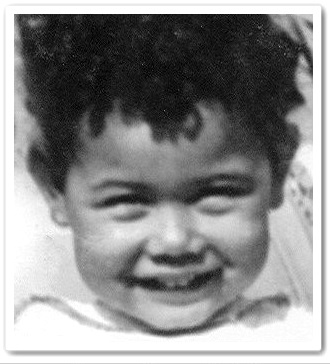 A Little Brown Baby: An Afro-German Adoptee's Story

by Shirley Gindler-Price (Shirley Daniela Gindler)
My Soul Has Found Its Home

by Shirley Gindler-Price
Please note: Photographs of Ebony, Jet, Hue Magazine front page covers and articles are courtesy of vieilles_annonces.